One of our members didn't realize this was the business we do here so just to say....we are Evergreen Turbo Co in Florida
Have had some requests for Spec's & Pics......hope it is helpful
Turbine Shaft
Turbine Shaft Cleaned and Polish for inspection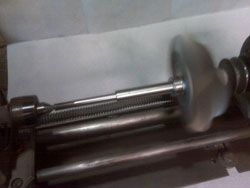 Turbine Shaft Journals .3541-.3543
If you have sharp eyes...you can see the journal bearing surface is damaged...Cutting this shaft .005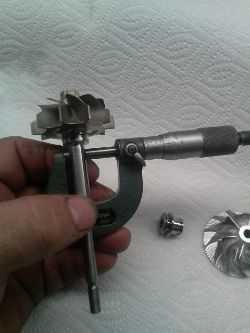 Hub Diameter .5910-.5920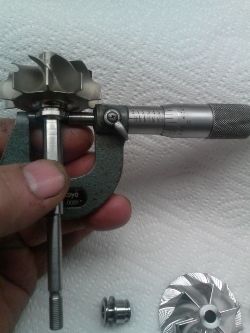 Turbine Seal Ring Groove .0610-.0612
Turbine Side Seal O.D. .6092- .6152
Width .0607
Quill Diameter .2492-.2495 Quill is the smaller end of turbine shaft
Threads/Turbine Shaft 6MM X .75 RH
Exducer Diameter 1.495
Major Diameter 1.855
Tip Height .290
Checking Turbine Shaft for Run Out..Center to Center...if more then .0005 anywhere...needs to be straightened...also the complete Rotor Group is checked assembled make sure there is no Run Out from Stack UP and Shaft Nut
Compressor Wheel
Inducer Diameter 1.176
Major Diameter 1.974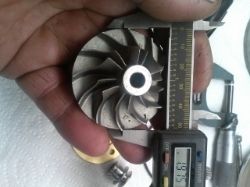 Tip Height .174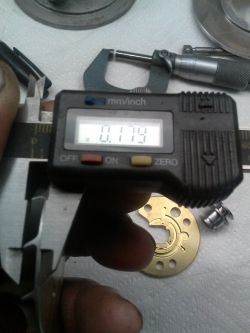 Balancing after Rotor Group is finished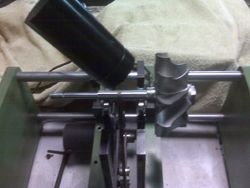 Bearing Housing
Bearing Bore Diameter .5904-.5907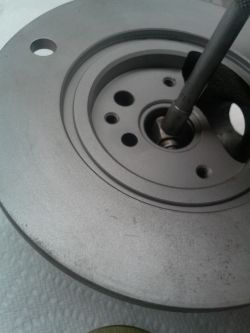 Line Boring Bearing Housing for larger O.D. Radial Bearings (.005 increments)
Seal Bore Diameter .6150-.6160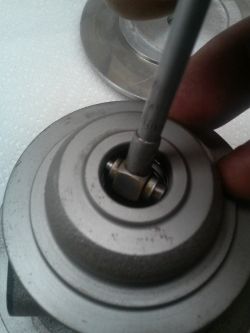 Seal Bore - For Seal Area Repair + .010 PN (143232)
Seal Plate
Seal Bore Diameter I.D. .5080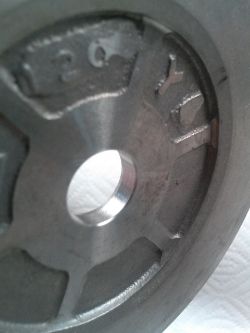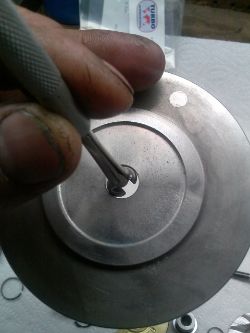 Compressor Seal Spec O.D. .4970-.5050
Width .0620-.06220
Seal Bore - For Seal Area Repair +.010 PN (104533)
Radial Bearings
O.D. .5870-.5874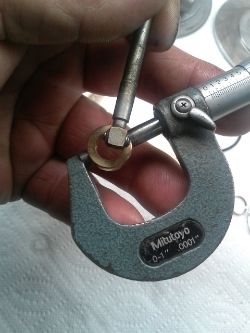 I.D. .3556-.3559
Width .2780
Radial Spacer .5855-.5857
Radial Bearings are also available in .005 increments O.D. & I.D...ie example..you can use a .005-.005 for shaft and bores machined to those specs..
Piston Ring Seals also available in larger OD/Width for worn seal area's
Thrust Collar .5663-.5667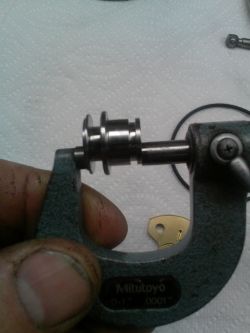 Thrust Collar Thrust Bearing Groove (corrected) Spec .1175-.1180
Thrust Collar Piston Ring Groove .06230-.6250
Thrust Bearing - Ramp .1165-.1167 (is Correct)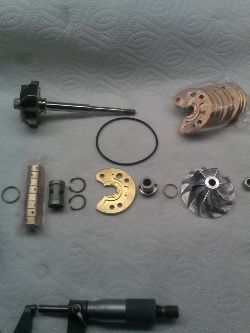 Most important to check are your bore spec's...Turbine Shaft Journal Spec's ...Shaft Straightness Center to Center....if your charger did not rub the blades and your seal area's are smooth...you should be in good shape if the above are correct....any Bearing Bore scar's and/or Turbine Shaft Journal scarring...you should machine those parts over/under as they will be outta spec..even a few tenths on those surfaces will cause smoking/oil consumption/shorter life span & poor performance...hope this was helpful!!
Assembly Notes to Remember
Snap Rings go round side to the Radial Bearing/Opening of Snap Ring down towards Drain
Helps in the oil runoff to Drain easier
When tightening the Thrust Bearing Screws..Do Not Overtighten...you will change the shape (warp) of the Thrust Bearing from the torque...will not stay flat and the Thrust Ramps will wear down faster in the Thrust Collar
Seals Rings are installed Gap Up...so the Gap is on the Oil Supply Line side
Keeps the oils from getting thru the End Gap easier
Mark your Turbine Shaft Thread End and Compressor wheel to keep in Factory Balance
If you have Bench Centers...Put the Rotor Group together, Install on centers, Check for Runout at the Turbine Side Journal & Compressor Side Journal
Max allowable Runout is .0003
You can see the damage on the Journals where the Radial Bearing run. Cutting Shaft in O.D. Grinder .005
Do not overtighten Shaft Nut..Use a T Bar to keep even pressure ..no end wrenches or sockets..you will bend the Turbine Shaft possibly..most likely..
Most easy way for most to hold the Turbine Head in a Vice....make sure its tight...use a drop of Blue Locktite..
Use NO Adhesive on your Oil LInes (Oil Cooler Included) and Drain Gasket...It will find its way back to the Bearings....
.